So I finally figured out how to pictures off of my new phone and onto my computer. For some reason the bluetooth wasn't working, so I just texted them to my e-mail address.
Anyway, here they are: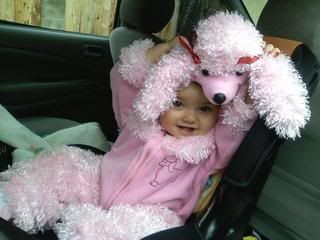 Penelope in the pink poodle costume Tami gave us at my babyshower. It's sized 2T so I never thought she'd fit into it for a Halloween, I figured she'd be too small this Halloween and too big next Halloween. I was wrong, it fits perfectly! Maybe Penny has been growing so fast so she *could* fit into the costume, in that case the fact that we have a giant baby is all Tami's fault :)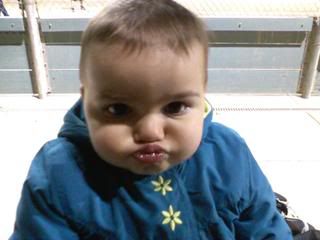 I like to call this "The Face" - and she makes it all the time.
In other news, my parents had her last night so I could surprise Bryan with a night out to a comedy club. She did great for them (slept from 8-7:30) and Bryan and I had a really wonderful time - we laughed for almost two hours straight. All in all, a very wonderful night! Now it's Sunday and football will be on soon! Go Steelers!