That title was excessively long.
Anyway, I've been meaning to sit and write down all of the cute/funny/sweet/exciting things the kids have been up to lately. I figured that being on break from school would naturally give me more free time. Ha. Hahahahaha. Haha.
So I'll try and remember what I can and see if I can squeeze some pictures in at the end.
1. Penelope and Griffin have become almost inseparable. When she wakes up from her nap she wants to "see Bubba" and if he's nowhere to be found (i.e. in the livingroom or with Bryan in the office) she starts to cry "Mama, see Bubba! Bubba are you??" (which is how she says 'where are you') until Bubba is produced. She will also whisper when he's sleeping so as not to wake him.
He returns the affection. He laughs at almost everything she does and wants to do whatever it is she is doing. He loves to give her kisses (which are wide, open mouth ones that look like he's trying to eat her face) and he also loves to pull her hair.
They do really well sharing with each other. Poe will often want what he's playing with, but she's good about giving him a new toy - so they'll switch toys and that way no one cries.
Of course, they don't
always
get along, but they honestly get along 95% of the time. I'm a little amazed at how well they interact since all you hear when you're pregnant with #2 is the horrors of sibling rivalry. I'm sure they'll fight and yell at each other at some point, but I do think that they'll continue to get along rather well. Only time will tell.
It has made me think a lot about my relationship with my brother growing up. Of course, he and I have completely different personalities than Poe and Griffin - plus we were 5 years apart. We get along rather well now and I think we generally got along as kids, but we had some epic arguments. I moved out his freshman year in high school so we didn't really see each other a lot when he was in his obnoxious teen years (not that he's no longer obnoxious - he is).
2. Penelope has finally started referring to herself as "I". No more third person.
3. Griffin still isn't crawling. Maybe by New Years. I hope by then!
4. The other day Penelope had some friends over for t-shirt painting. She made a shirt for herself, one for Griffin, and one for each of my parents. Here's some pictures of her making the shirts and then a group shot of everyone in their shirts: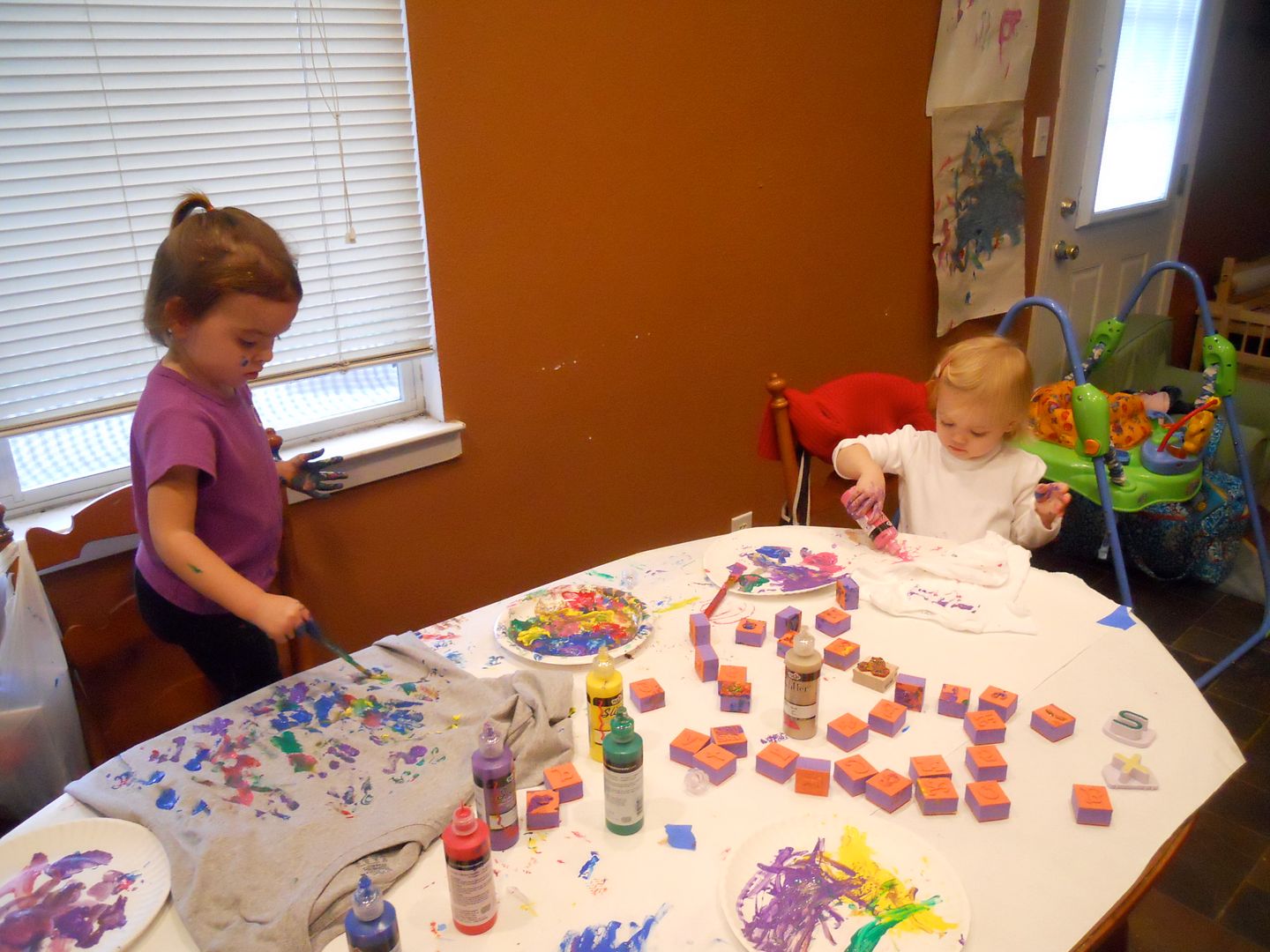 5. Christmas! The kids made out like bandits this year, our house is not big enough for all of their stuff. This has given me an excuse to go through toys and donate gently used items - I was planning on doing it anyway, but finding a place for new toys has made donation a necessity. We're very lucky to have so many generous people in our lives, but I have to admit the sheer volume was very overwhelming! Two kids can't possibly need all these toys, but we're still very thankful for all we received. Our kids are certainly loved by both sides of the family!
Here's some Christmas photos - I didn't get a chance to take any while we were in Reno :( and I should probably devote a whole post to our Reno trip, but I don't think I'll get to it. It was a great trip with the exception of one night in the hotel when Penelope was awake from 1:30-5am.
Griffin in his 2nd favorite position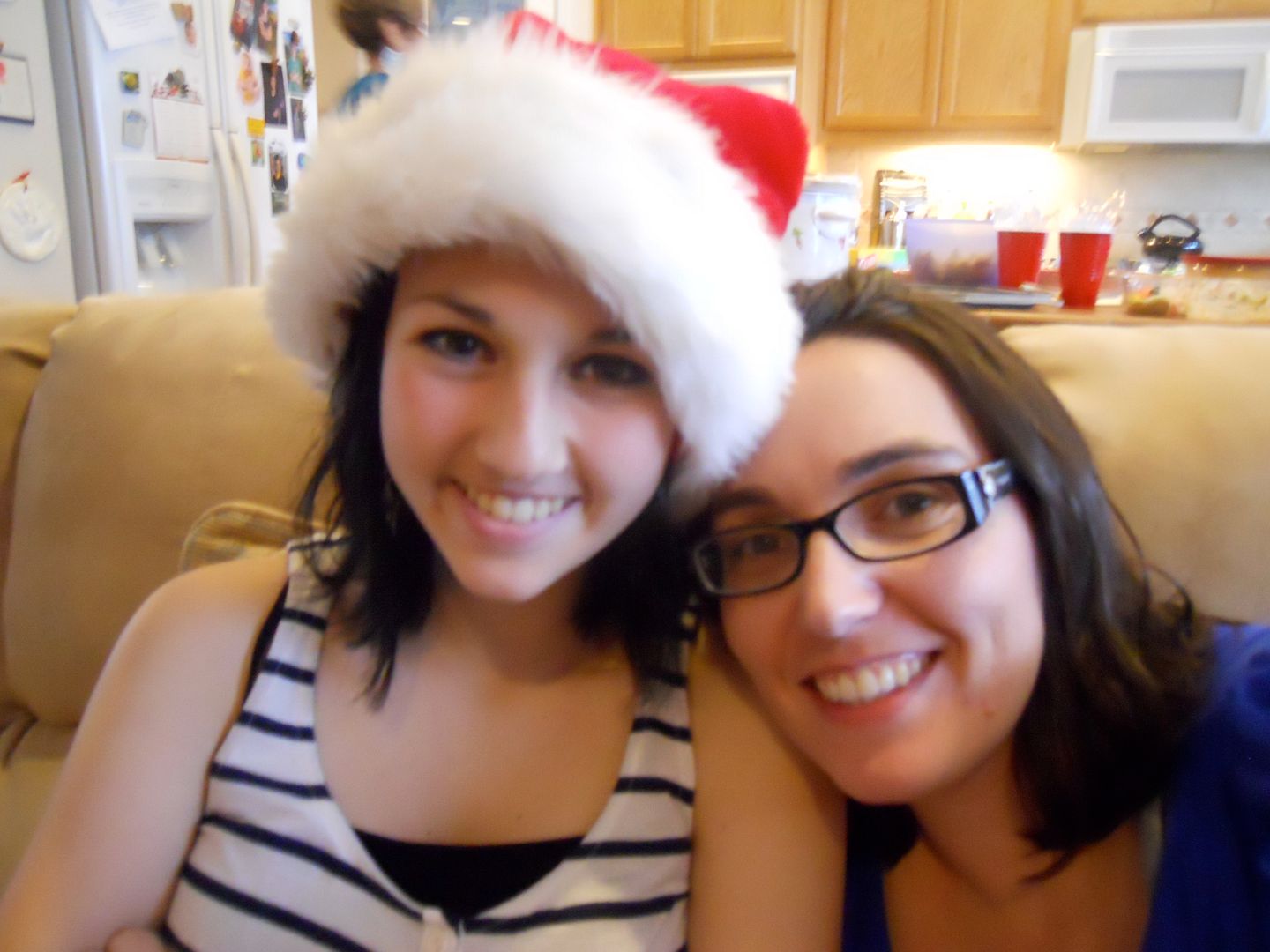 My cousin Macy and I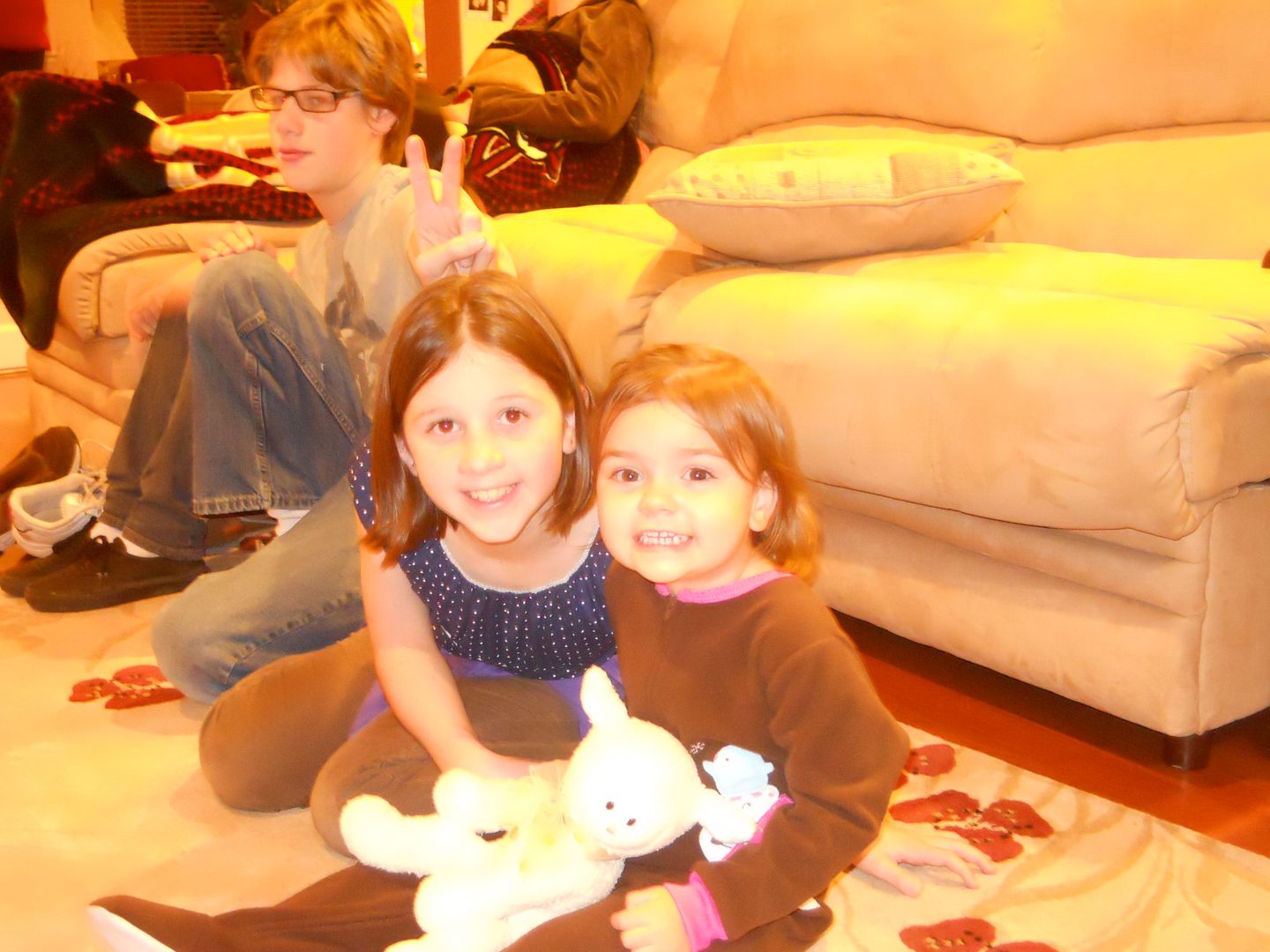 Riley and Penelope during present opening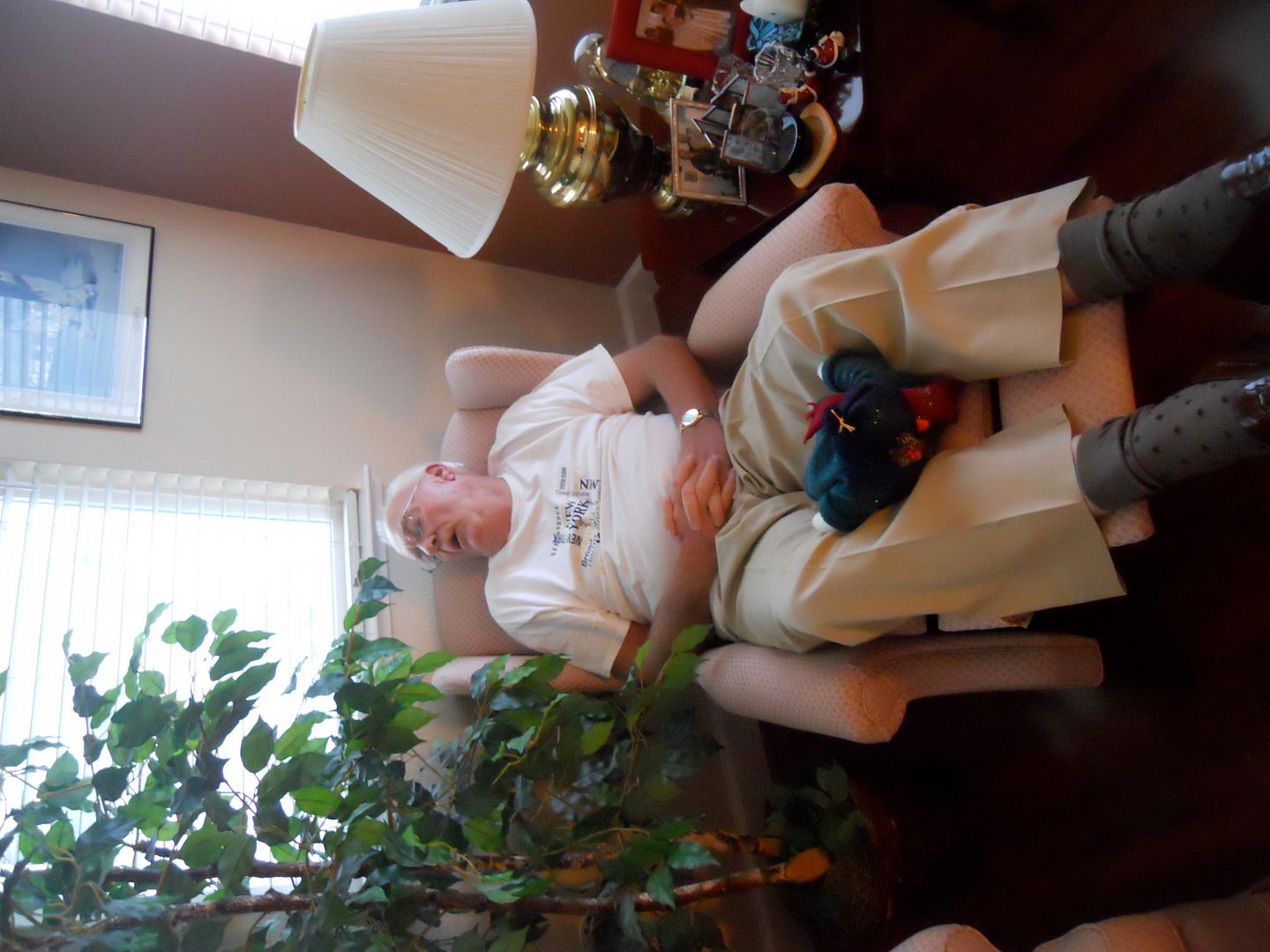 A sleeping Grandpa Larry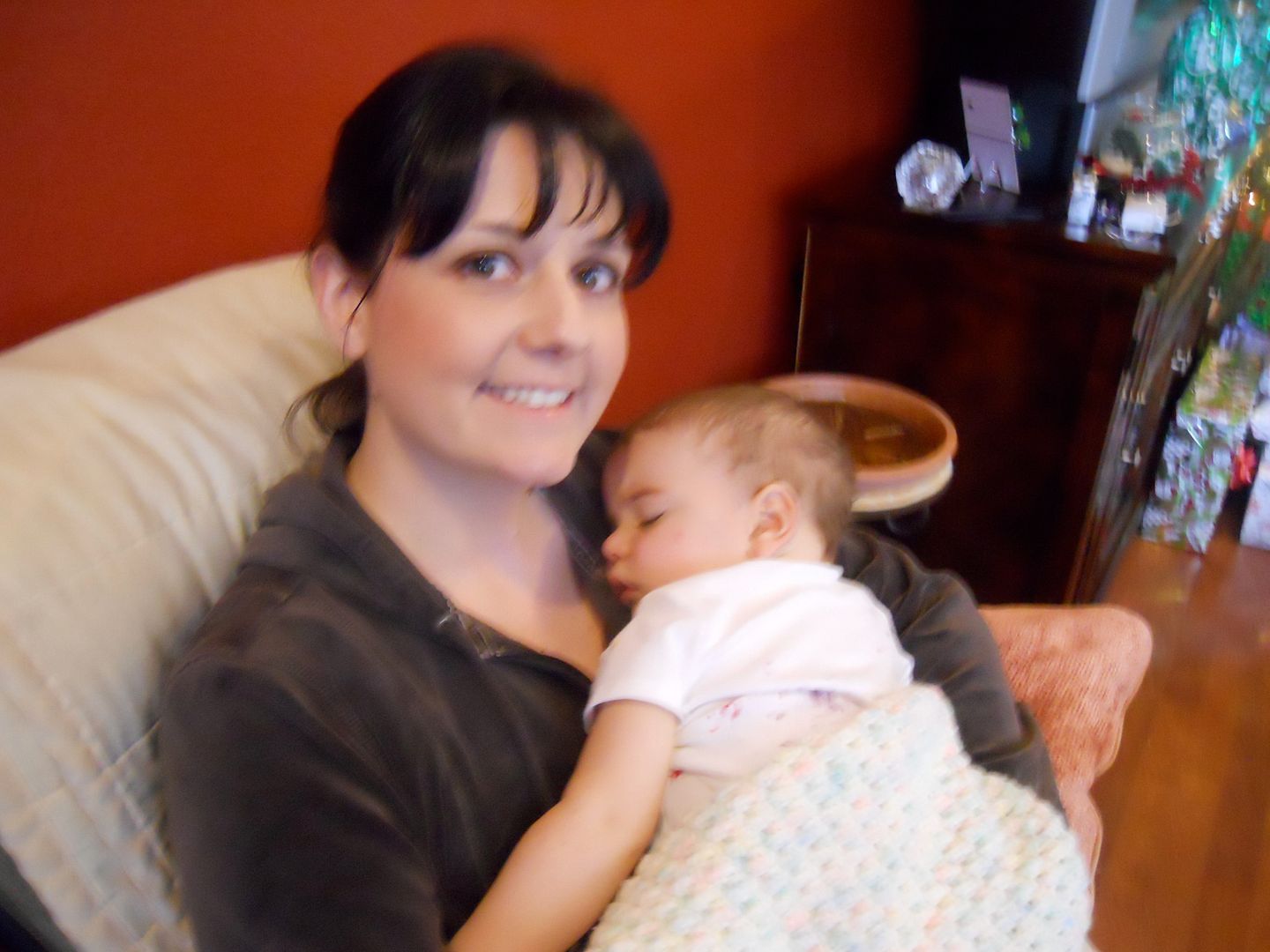 Cousin Jodee (8 weeks pregnant with her first!) and G-man
And I shall leave you with more upsidedown baby