And I didn't take nearly as many pictures as I wanted to.
But that's ok, because it was fun. And I have these, which are fun too.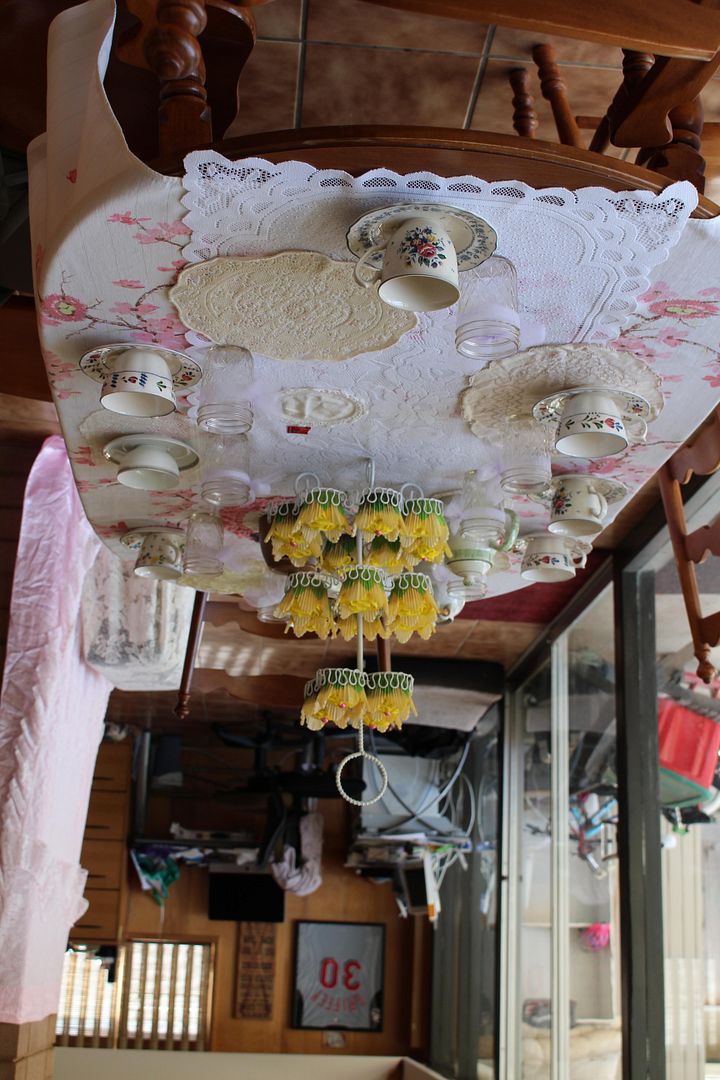 The table set up with the photo shoot area in the back.
We found tea cups, saucers, and tea pots at various thrift stores, along with doilies, lace things, and a pink-ish lacy curtain that was our photo shoot backdrop. I made the cupcakes look like flowers (which was crazy easy, thanks youtube!). They also had mason jars as glasses for lemonade.
All the tea was fruit tea (peach, blueberry, etc) and they actually drank it.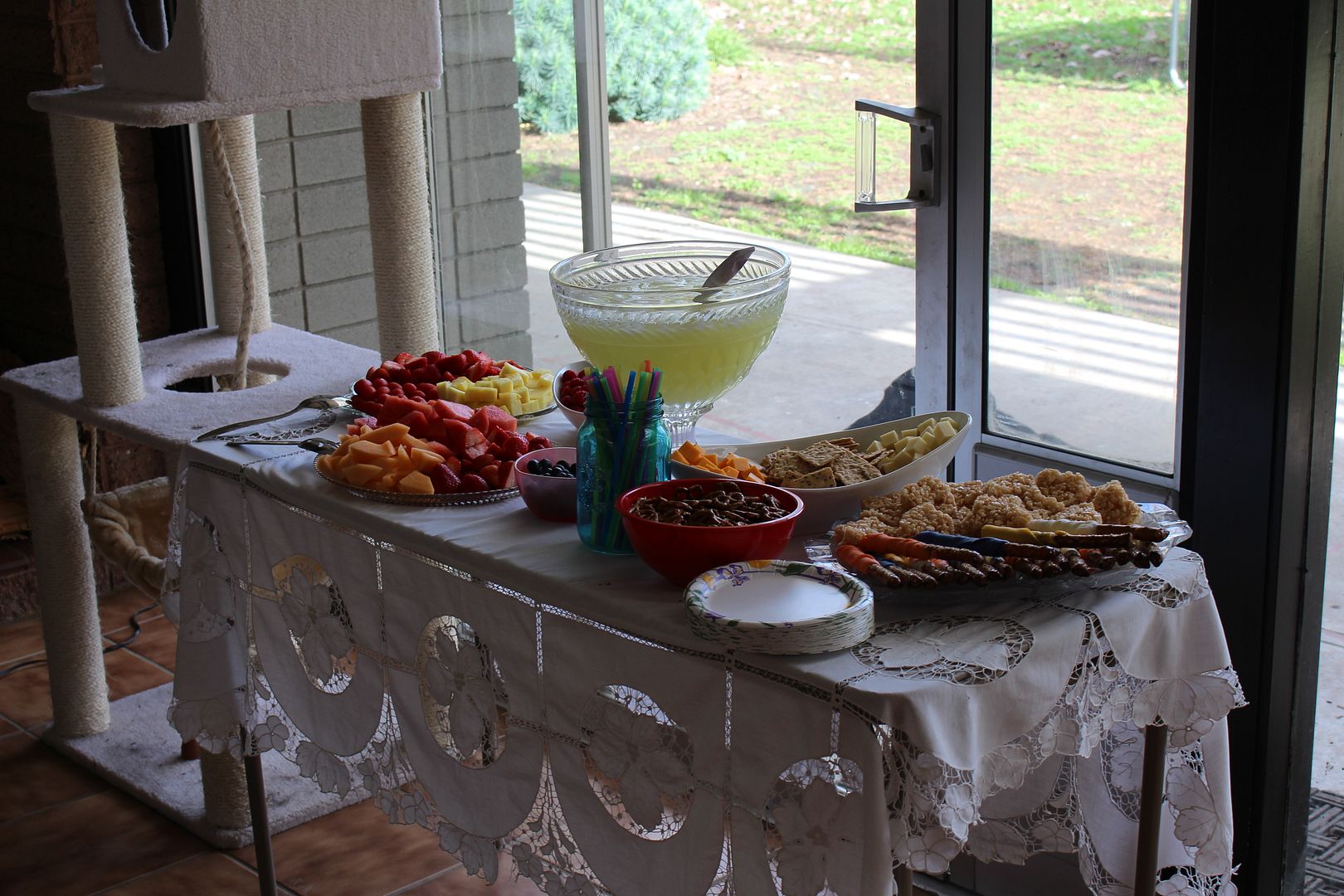 The food table: fruit, rice krispy treats, lemonade, cheese & crackers, candy dipped pretzels.
I briefly thought about making scones and mini cheese sandwiches and then had to reign myself in. She's 6, I'm pregnant. This was just fine. I liked the fancy punch bowl, provided by a friend. It was a nice touch.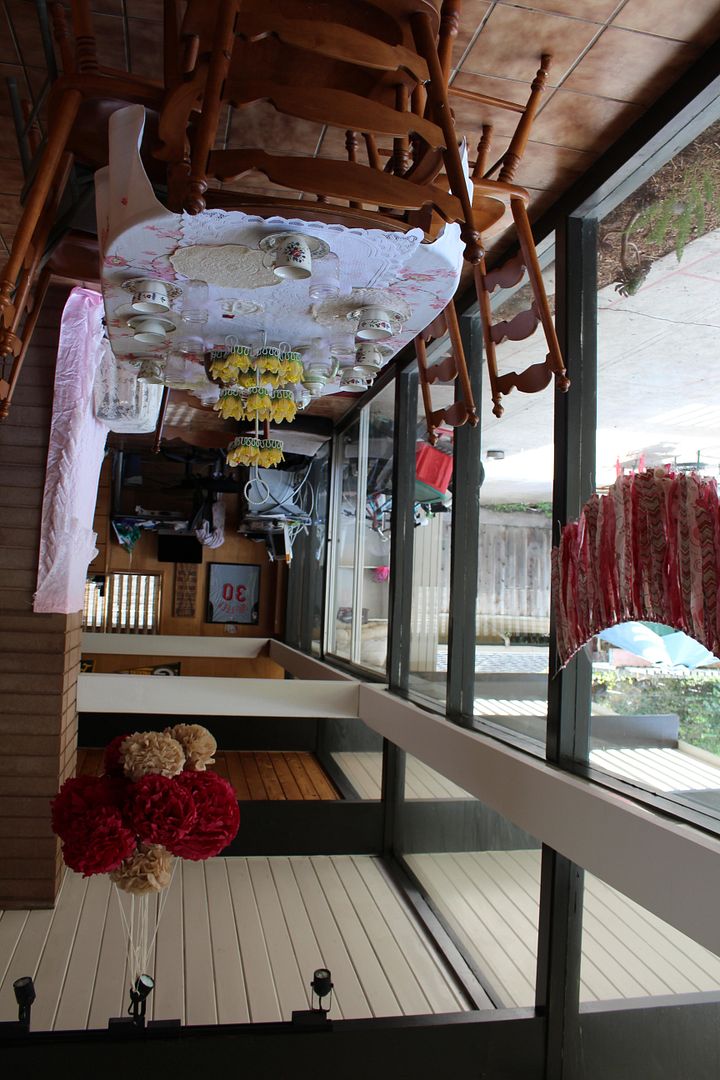 Table + wall and ceiling decorations
The wall garland was super cute, I wish I had gotten a better shot of it. I do still have it, but I'm not about to drag it out of the kid's room just for a picture. The pom-poms hanging from the ceiling are still up in the house. We'll see how long it is before someone finally gets annoyed with them and takes them down. They're just tissue paper, and easy (but time consuming) to make. My dad & Bryan made half of them while mom and I prepped food the night before. Proof that my dad and husband are pretty freaking awesome.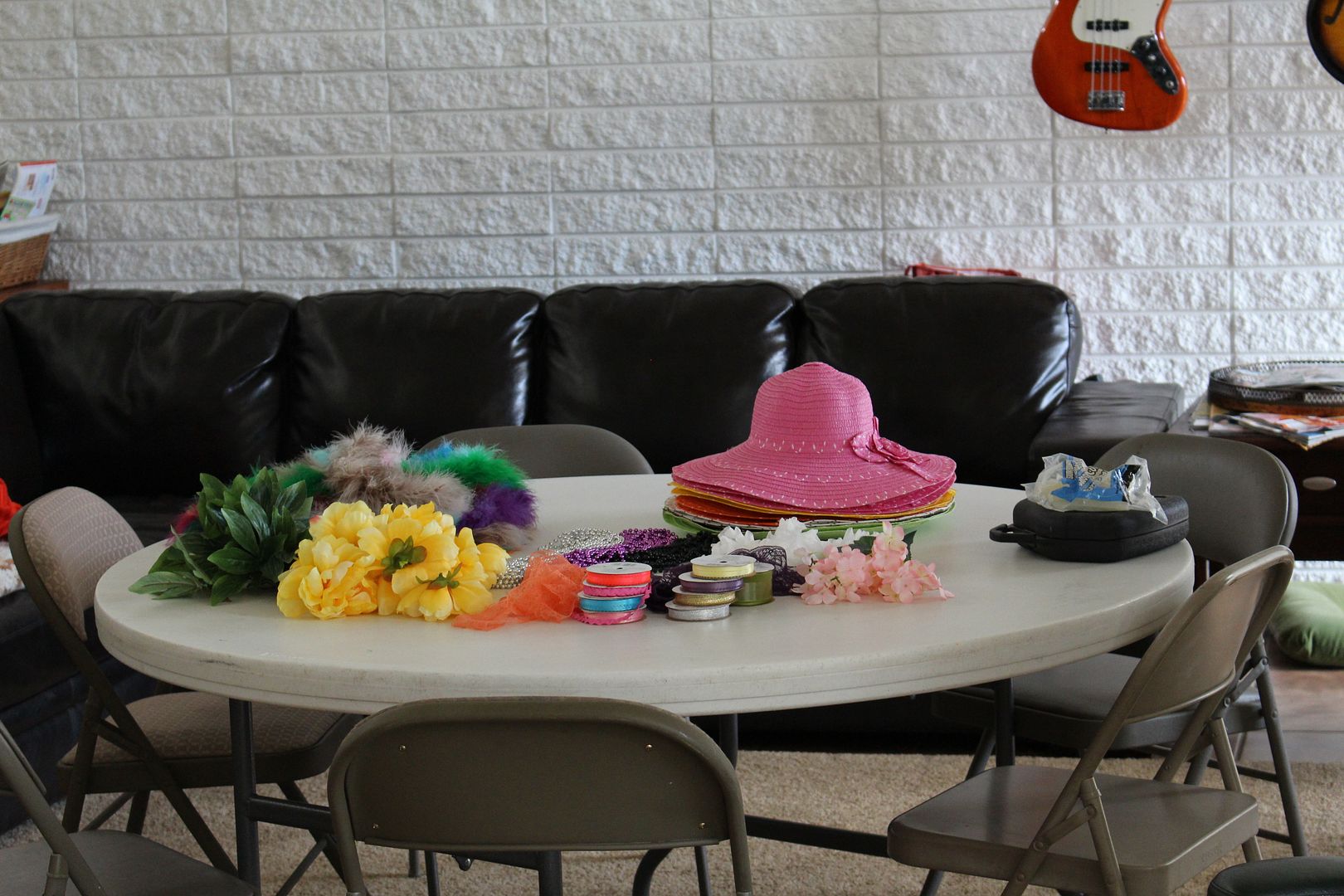 The hat decorating station
So THIS is where I went overboard budget-wise. The girls each got a hat and a feather boa. They could add ribbons & flowers to their hats to make them super-fancy and tea-party ready. I had to ship the damn hats express to get them here on time because I suck at planning (well, I just got busy), so they were much pricier than I had originally planned. BUT they turned out insanely cute, see: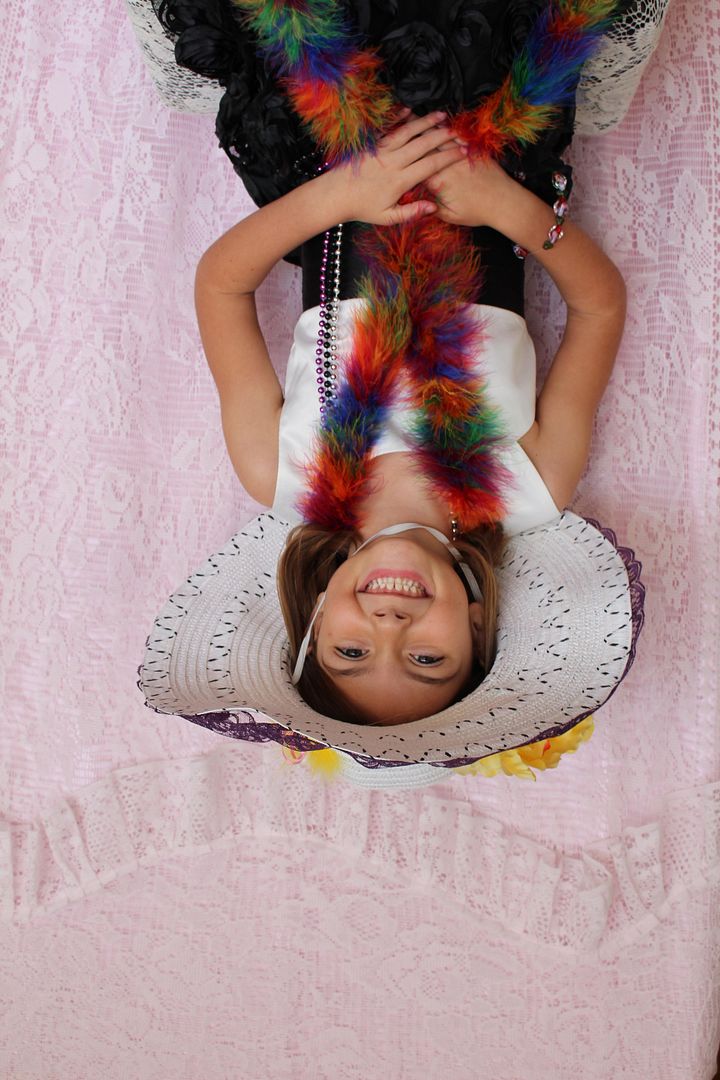 Birthday Girl in her fancy hat, boa, and party dress.
And then there's these:
My mom, who is awesome.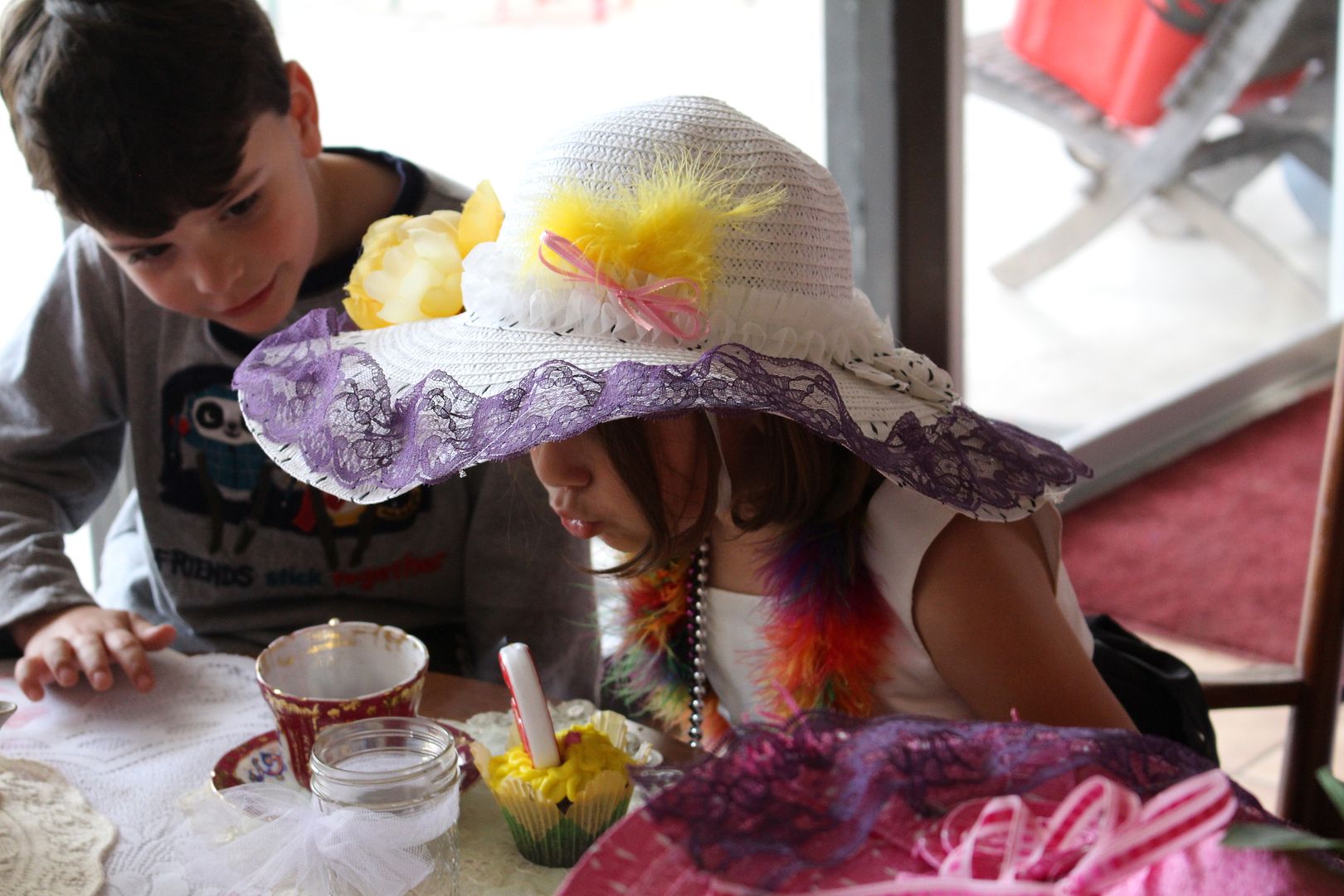 Penelope, blowing out her candles
I have more, mostly of Sissy and her friends or of her friends posing with the background, but since I don't have permission to post those I think I'll hold off. I'll print them for each girl though and we can include them in her Thank You cards.
I was pretty exhausted by the end of the party, and it was only a 2 hour gig.
Now to start planning Bubby's 5th. I think he wants a Robot theme. Hello Pinterest!