I am officially 37 weeks pregnant, which means that if I go into labor I can now have this baby at home.
So that's a relief... not that I thought I was going to give birth early - there's been no signs of impending labor and I'm 100% ok with that. I still have 3 weeks left of work and a whole bunch of work-related things to do before this baby comes. Not a lot of actual birth prep yet though, I'm pretty much ready for birth. Just work. It's always work..
Anyway, for comparison, here are some pictures:
Baby #3 @37 weeks 1 day
Griffin @ 37 weeks 5 days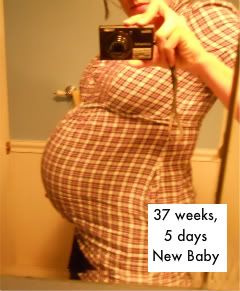 Penelope @ 37 weeks
I think I look the same.
I did have a dream that the baby was a girl. But I've had dreams that they were all girls and Griffin is clearly a boy. So my dreams are obviously not prophetic.
Anyway, 20 days until my EDD. I'll be counting down the minutes.
If you'd like to be a part of the guessing pool as to this baby's birth date, sex, weight, and length, go here:
http://bebepool.com/sinatra1981
----
Sissy and Bubs are both recovering from a wicked stomach virus. Sis went through hers in 3 days with an extra day or two of recovery/weakness. G is now on day 6, poor dude. I hate it when they're sick but I'm so, so glad that so far it seems to have left the adults alone. I don't think Grandma would do well with this one. I won't feel like we're out of the woods until G has been diarrhea free for a week though, he started his about a week after Sis recovered from hers. So either this bug has a long incubation period or he picked it up from school and not from home.
Either way, I'll be glad when the house is bug-free.
----
I was planning on blogging about Penny's play, but I'll save it for later. I don't have the pics readily available and I have grading to do before tomorrow so I should probably do that. Suffice it to say, she was cute and loved being on stage. This will not be the last production she's in, that's for sure.