I have posted yearly resolutions for awhile now. There was
2014
,
2013
,
2012
, &
2011
. I've been mostly successful at keeping these resolutions, so I figured what the heck, lets try a new set for 2015. Only I'm tired and pregnant and busy, so lets make these really, really attainable.
So here are my 2015 New Years Resolutions.
1. Have a baby. That one will be easy to keep if not easy to actually accomplish.
2. Finish the paperwork for my Clear Credential which has been sitting on my desk for 2 years. This one I HAVE to do since my credential expires soon.
3. Run again after baby is born and I've gotten the all clear. This one I've been dying to do for ages, but since I was so sick the 1st trimester I got out of the habit and I don't think picking up running again at 30 weeks is such a good idea.
4. Try not to stress myself out over losing baby weight. This one will be the hardest, by far. It's my 3rd baby, I'm in my 30s, and losing weight won't come as easily (not like it was ever
easy
, but you get my drift) as it did when I was in my 20s. So I need to cut myself some slack. It will have taken 40 weeks to earn these enormous lunch lady arms, so it's gonna take awhile to make them go away.
Speaking of being 30 weeks and having lunch lady arms, here's a belly pic. Scroll down for comparison w/ G & P pregnancies.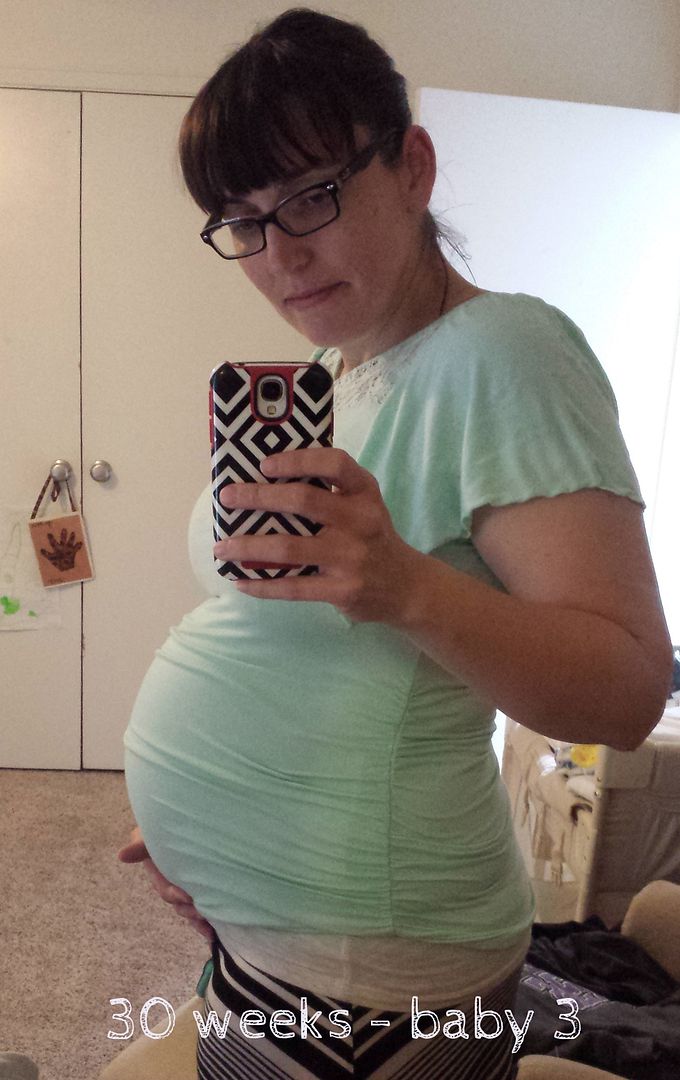 Now w/ Penelope - only at 31 weeks
And with Griffin at 32 weeks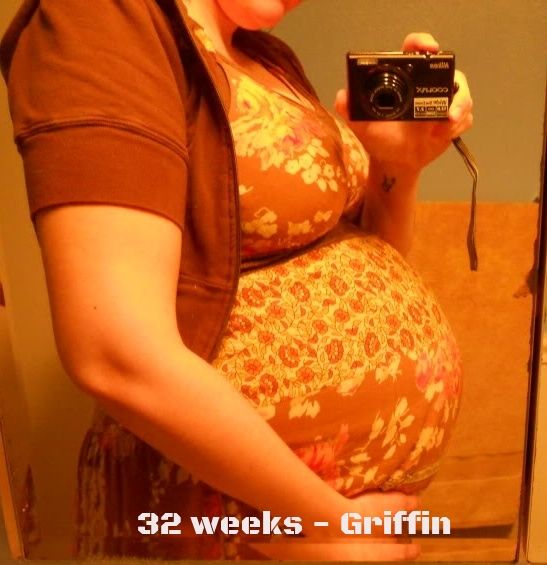 Things to note:
1. I miss that dress, why did I ever get rid of it?
2. Uh, that's it. So really "Thin
g
to note."
We did have a 30 week appointment this Saturday, in addition to hosting a group prenatal at our house. Baby looks good, things are normal and boring.
The group prenatal was interesting. Everyone brought food and we sat around and shared birth stories while the midwives pulled people into the back room for their individual visits. Overall it was nice. Exhausting, but nice. We haven't met a lot of people here outside of our respective places of employment (and more so my work than B's), so it was nice to meet people who not only had kids, but were also home birthers. While home birthers can be a diverse group, they tend to share some things in common and so it's nice to get to know people who have similar philosophies as we do. I don't know if we'll find new besties, and I doubt any group could replace the MSN/One Heart community we had out in Sacramento, but hopefully we'll get to know a few families to add to our social circle.
I'm now on bi monthly pre natal visits, so I see the midwives again in 2 weeks. Come mid-February we'll be on weekly visits until baby 3 decides to make an appearance. I'm really hopeful this one follows in its sister & brother's footsteps and comes on its EDD (3/14/15) because Pi Day is an awesome day on which to be born. We'll see. There's only so much say I have in the matter.