This weekend was truly wonderful - for a lot of reasons, mostly though it was because we were able to spend so much time together as a family. Last weekend we were still so busy unpacking, the weekend before was the move, and prior to that I was working at HLC at least day each weekend so we only had one day during the weekend to be all together. Bryan's been swamped too, so he's been spending as much time as possible working. This weekend, while he and I both did a little bit of work (him more than me), we spent a lot of time doing fun (and free!) family activities.
But before I get into the weekend (with pictures!) I wanted to talk about daycare. Friday was the kids' first day in daycare and it went really, really well. Stephanie said they were great and Poe had such a good time that she didn't want to leave. She actually asked me twice this weekend to go play at Stephanie's house, so I think daycare is a hit. I'm sure both kids will have days when they don't want to go, but we've found a good fit I think. This week will be their full week in daycare and I don't really foresee any problems. So that's nice.
On to the weekend!
Friday night after picking the kids up we headed back to campus for the Freshman mixer. I saw a lot of my students, met a parent, and the kids got to play with some other teacher/admin toddlers. My principal has a daughter a month younger than Poe (and a baby boy that's due any day) and the activities director has a daughter the same age as the principal's daughter. The girls seemed to have a really good time together. Penelope was wearing her Princess crown, so one of the little girls kept calling her Princess... as in "hey Princess! Come here Princess!" So cute.
Saturday G and I woke up early and took a mommy/son trip to Seaside for teacher appreciation day at Staples. It was nice to spend some time with him one on one and I think he enjoyed it as well. Afterward B and I talked about the beach or the Aquarium, but decided to get a small start on the backyard. Our backyard is basically an L shaped dirt run. Not super wide, but not super narrow. Semi divided in two. All dirt.
Since we live in the "salad bowl" I decided that I'd really like to start a garden. We're not planning on being in this place for years, but I know almost nothing about gardening and so am considering this my starter garden. When we own a place out here a few years down the line then my experiences with this garden will help me design my permanent garden.
So we picked a spot and got to digging. The plot will end up being 13' x 6' - so not huge, but decent sized. We got rid of all the top soil (like my handy dandy gardening for dummies website suggested) and did a bit of tilling. It took a little while to get the soil removed so we didn't till it all. We'll probably rent a small roto tiller in a couple of weeks and get the rest done. We're also considering putting sod on one side of the yard so we have a place to come out and sit/play, but I don't want to get too ambitious.
After lunch and naps we unpacked the office (finally). We also did an early dinner/bath so we could all watch a movie together downstairs. It was a nice homebody day. At one point Bryan took Penny for a bike ride and I took Griffin and the dog for a walk, but in general we stayed at home and just enjoyed being together.
Sunday we were more ambitious. The beach topped our list, followed by shopping, lunch, naps, a bike ride to the grocery store, dinner, the park, and finally baths and bed. Here's some beach pictures.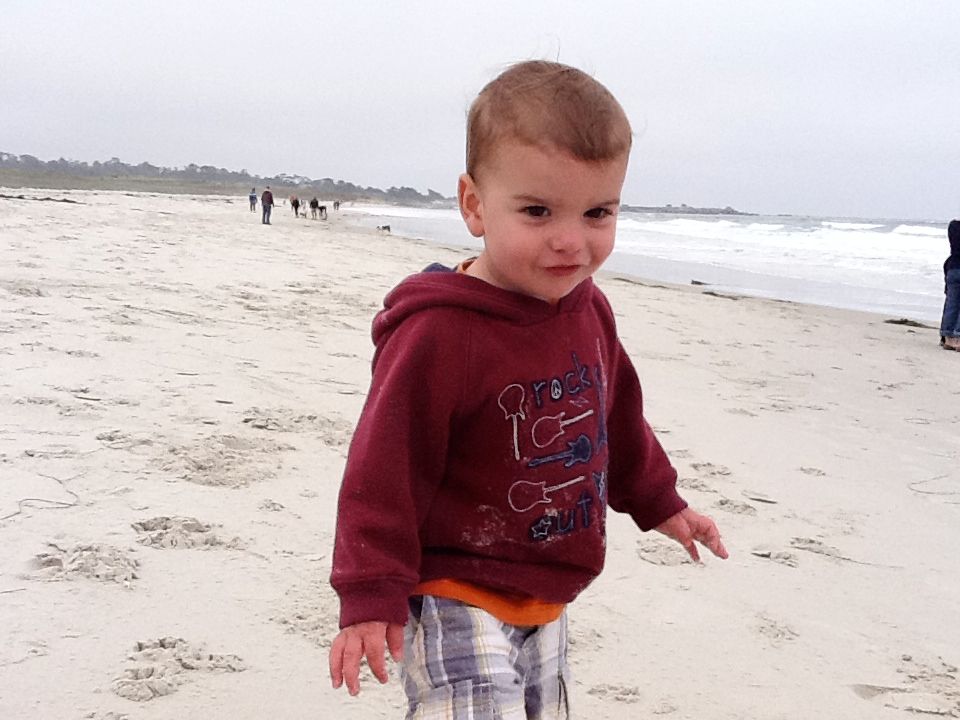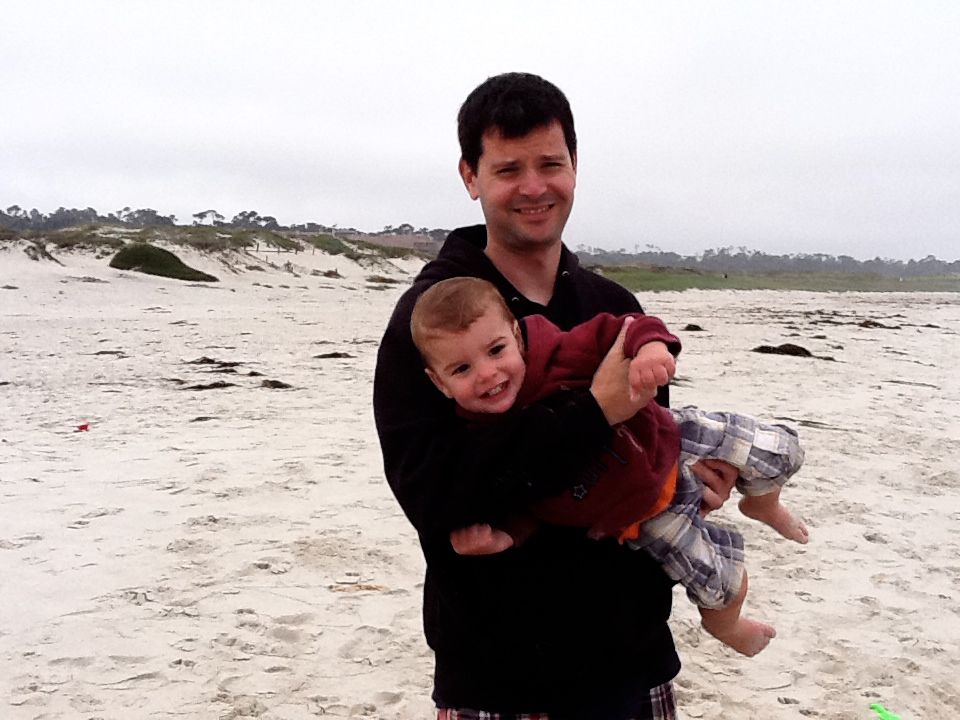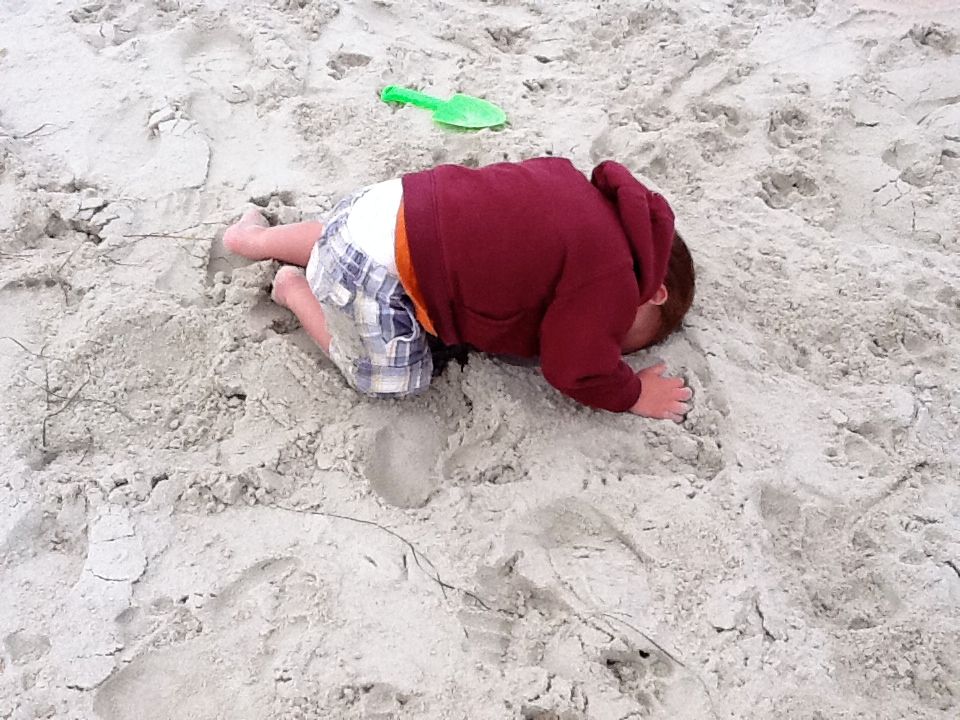 Ok, so this picture has to be explained... Griffin was digging trenches with his head. Yes, you read that right. I have no idea why. I have some video, will upload it later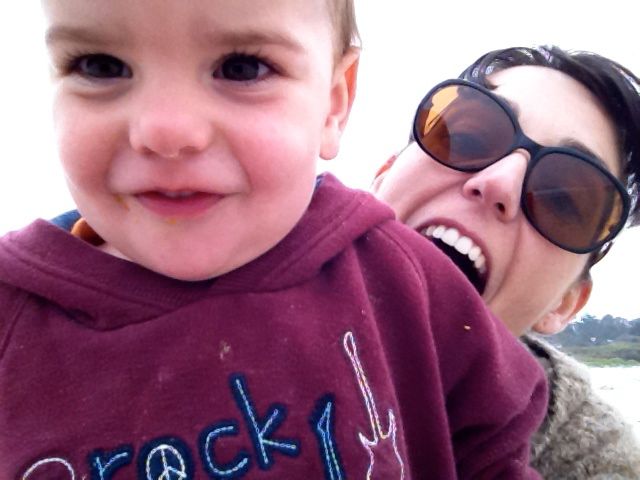 So yeah, we had fun. Penelope was all about running up and down the beach. She ran with Harley and I for awhile and then ran for a long stretch with Bryan and Harley - that child loves to run. She also loves the beach, who can blame her?
Griffin and I buried each others feet and I made sand castles that he knocked over. He was all about immersing himself in the sand.
Neither child was brave enough to put their toes in the ocean :) I was! And Harley, of course, she loves the beach more than all of us combined.
I wish I had more pictures of the park, but we were too busy having fun. The kids spent some time in the swings, I swung... we played tag as a family, we climbed on the playground equipment. The park itself is small, but I LOVE having a park less than 2 blocks away. The library is also super close, less than a block. And I bike to school, it's only 1.5 blocks away. Love.
We did some light grocery shopping as well, just enough to fit in the back of the bike trailer. It is wonderful that I can take the kids to the grocery store on my bike. It is amazing that I can go days without getting into a car.
I do wish our daycare provider lived a little closer so I could ride my bike, but alas she does not. She's on the other side of town and while I could technically ride my bike, parts of that ride are just not safe for cyclists. Oh well. Even with that daily ride, we haven't had to put gas in the car since 8/5, which is a record for us.
Tomorrow starts the first full week of school and I feel ready. I still have some planning to do for the week and a few copies to make in the morning, but I feel rejuvenated and ready to tackle my 6th period... I thought 6th period last year was an anomaly of energetic and... challenging kids, but apparently that's just 6th period. My group this year is a level up from last year's group (and I mean a level up in challenge). Things should get even more interesting when they shuffle schedules around after this next round of placement testing (long story). But I'm ready for them. Bring it on LAD B!