Here is owl #1 for P's room: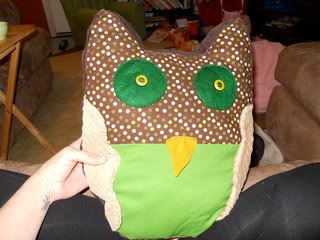 My sewing machine died shortly afterward, and hopefully I'll be able to resurrect it tonight so I can get another one done.
And here's the wreck I made last night:
It looks awful, but it tastes delicious! For those who know me well, you know that baking is generally my strong suit and this cake is uncharacteristically messy. Oh well.
"&" sure seems to like it, he/she throws a little party after I eat some.