So Saturday was the start of the Tour of California! We're big cycling fans (well, my side of the family, Bryan isn't quite there yet) so I decided to take Miss Penelope downtown to see the race. I took Tori with me since she spent the night at our house the night before and we met up with my parents at the lightrail station so we could take public transit in (parking was going to be a nightmare).
((Sidenote: taking the stroller onto lightrail is NOT a good idea))
Anyway, we got down there an hour or so early and walked around, looked at various booths and took some cute pictures of Penny in her adorable Tour outfit: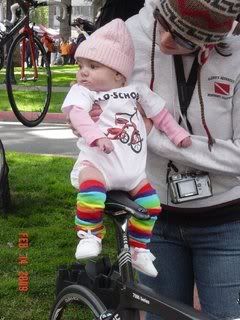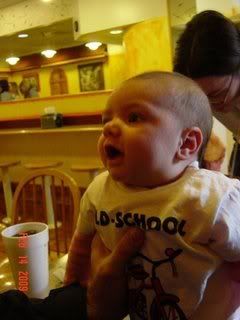 The weather wasn't too bad, but almost halfway through the "race" (it was a timetrial) it got a little too windy and Tori, Penny, & I hopped back on lightrail and came home. All in all it was a good day.
The rest of the weekend was spent over at the kid's house - Jill and Drew were up in Tahoe, so Bryan and I stayed over for the weekend. They (J&D) actually got stuck in Tahoe (snow + traffic = no fun) so we stayed an extra night.
Monday I took the kids (all three, Brandon, Tori, & Penny) downtown for the anti-Prop 8 rally. It was much colder than Saturday's Tour so we didn't stay very long, which was a little sad because we didn't get to see the musical number that friends of my parents were performing... nor did we get to see Margaret Cho, Wanda Sykes, & George Takei. Oh well.
Miss Penelope wore her rainbow tights in honor of the occasion and a cute jumper with colored hearts. We're all about the LOVE :)