Tonight's dinner was pretty terrible. It was going to be Greek pasta, but I was out of feta so it was home-made mac & cheese with fresh veggies only I added WAY too much mozzarella and the cheese sauce was more chunky than cheesy.
Oh well. Lesson learned.
So this weekend was the 4th of July weekend and we had a lot of fun. We headed over to Maddox's house and met up with Lucy and Orson as well (and their parents of course!) :) Maddox's neighborhood had a kid parade and then a festival-thing at the park so we walked the parade route and then hung out at the park. There was music, games, bounce houses, and food. The kids had a really good time. Penny wasn't too sure about the bounce house but she rocked out to the live band and had a hot dog, a couple of chips, AND some ice cream. There's nothing like junk food to say "Happy Birthday America".
Here's some pictures:
Penny & Lucy
In the parade
Pen & Harley-Quinn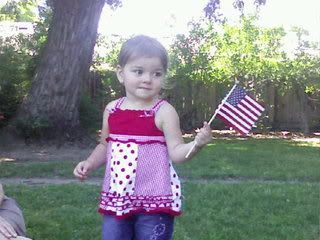 Patriotic Penelope
And here's some video: