Today Penelope got a blanket and covered her sleeping brother with it. Too fricking cute.
Today was also the first time that I left Griffin at my parents. Really the first time I've left him at all - I went to a student teaching interview a month after his birth but that only lasted an hour and a half or so. This time we left him for over 3 hours to go see a movie. We saw "Grown Ups" which was terrible (although funny in parts), but it was nice to have a little break from the craziness of two under two and spend some time with my husband :)
Soon I'll be ready to leave him for an overnight... well, in a month or so. Maybe two.
Today was also another fun pool day at Olivia's (P's friend). We had a metric ton of fun, P is now a bronzed goddess and yesterday Griffin went swimming for the first time (well, I stuck his feet & butt in - he was not impressed).
We're so lucky to have so many amazing mommy & baby friends (and daddies too!!). I honestly don't know how I would get through without them. They keep us busy and make the days so much more fun! Here are some pictures of Penny and her friends.
Penny, Sophia, and Linden (and Alisha - Linden's mommy)
Alisha, Penny, and Linden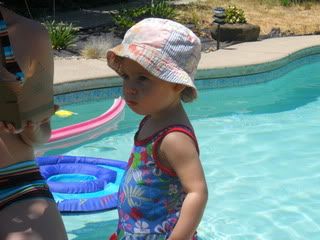 Lucy, our world traveler who just got back from Greece
Penny and Linden
Orson, Penny, and Kim (Orson's mommy)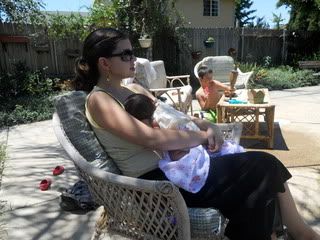 Sarah and Elli (G's future wife)
Little Miss
Olivia (our hostess)
And now for some of Griffin being goofy - I flipping LOVE this kid!