Hello, my name is Jessica, and I'm addicted to
Pintrest
(This is where you say, "Hello Jessica").
Anyway, a fellow blogger named Julie wrote
this post
about the things she's done based on pintrest, and it's inspired me to write one about my own pintrest obsession. Be prepared, I've done a lot.
1. The Owl Hats. I've
already blogged
about these hats. I've made 5 so far, all for kids, and I love each new one more than the last. They're a little time consuming (especially the d**m ears) but so super cute.
2. The puzzle coasters (see blog post linked in #1) were also inspired by a friend's pintrest site (before I had a pintrest page). I just changed things up a little to make them puzzles instead of just homemade coasters.
3. The Hand Tree! (small version in linked post). I love this craft - although I wasn't ready to do it
with
the kids quite yet. I made a big one for our house - do you like?
Bryan & my arms/hands make the trunk and the kids' hands are the upper branches. Things I've learned from this craft - Griffin has big hands (almost as big as Poe's) and I have TINY wrists. Like freakishly small.
4. Headbands. I have actually tried 4 headband patterns found through pintrest. I don't have pictures of them all, but here are a few:
If you like this one,
here's the link to the pin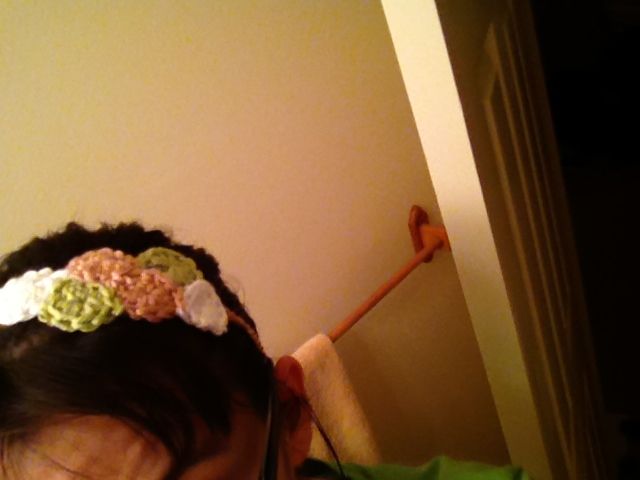 For this one, I took
this pin
and
this pin
to create a "new" headband. I still want to learn how to do the crochet stitch of the rainbow headbands, I love the way it looks.
5. Wall Art - this actually didn't turn out exactly as I had hoped, but they look ok.
Perhaps I just need more of them. Here's the
link to the pin where I got the idea
.
If
I do it again, I'll change things up a little.
I have a LOT of things on my pintrest boards that I have yet to try. Hairstyles, more crochet crafts, recipes, decorating ideas... Pintrest is completely addicting - so be wary before you begin.
Happy crafting!