I wish I had time for more, but life is super crazy.
Penelope turns 9 months on Saturday, and the countdown to her birthday begins! I haven't really decided if we're going to have a big party or not. Part of me does, and part of me doesn't really want the hassle - I mean, big or small, she's not going to remember it. And I don't want to feel like I need to one-up myself every year. BUT she's turning 1! How could we NOT celebrate??
I have three months to figure it out.
In the meantime, here's a picture of some quality father-daughter time: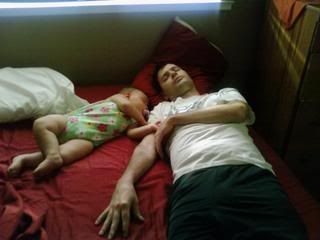 I keep forgetting to mention that for about 3 weeks Penny's been shaking her head "no" - she does it ALL THE TIME. It's quite hilarious... And she crawled yesterday, it was a single crawl but we're counting it. She'd still much rather walk, and I'm sure she'll be doing both quite well before she turns one.
Last night she had some night terrors, which are very rare for her, so we brought her into bed with us. This morning when Bryan was getting ready for work she almost wiggled herself off the bed (she was still asleep) and when I "rescued" her she woke up - so we were up early this morning. No fun for mama, but at least that means she took her morning nap early so I was able to wash bottles, start a load of diapers, and post this entry!
I still have to make our lunches and shower so we can head out to music class. Today is going to be a busy one, maybe she'll be nice to mommy and let me take a nap with her later this afternoon.