So I haven't been as diligent this pregnancy with taking belly pictures. With Penelope I took one every four weeks until I was 30-ish weeks or so and then it was every other week or weekly (I think, it's been awhile and I'm too lazy to check my photobucket account).
Anyway, I have yet to post a belly picture this go 'round (or have I? Can't remember). Regardless, here's New Baby Belly at 20 weeks (Halfway!!!!!):
And for comparison, here's my belly with Penelope at 19 weeks:
And for fun, here's a sequence of belly pictures for New Baby: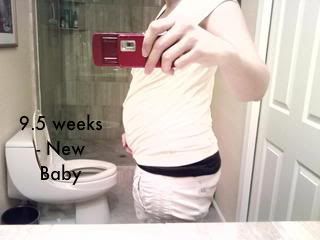 So looking at the pics, I have to say my belly is much rounder from the get-go this time. I looked pregnant quite a bit earlier - which isn't surprising, especially considering I hadn't lost all my Penelope baby weight when I got pregnant this time around.