So I'm finally getting around to posting about our trip to Seattle...
We left Wednesday afternoon and timed it perfectly, Penelope fell asleep just before take off and didn't wake up until we landed. Yea! She didn't seem at all bothered by the plane, the crowds, or anything else. Sweet.
We took a town car to the hotel (no shuttle, same price as a taxi), checked in and unpacked (well, sorta). The hotel had cribs, so we had them bring one up, even though we didn't use it the whole time. Dinner was room service (we had gone down to the hotel restaurant to eat, but the service was terrible so we went back up to the room and just ordered food).
This was the view from our hotel window at night: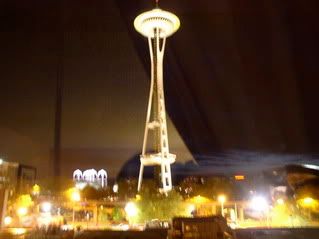 It was pretty nice - the hotel was Best Western Executive Inn, so a little sparse, but we didn't need or want fancy... BONUS, they recycle AND compost. Score! An environmentally friendly hotel!
Penny thinks going Green is yummy: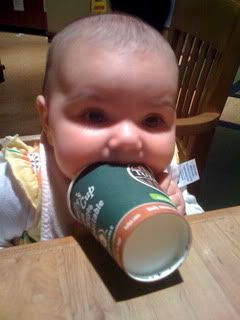 The next day we ate breakfast and headed out to Fremont (on the bus, hooray for decent public transportation!!), which is where my cousin Fredd lives. Before stopping in to see Fredd (who broke his ankle the week before), we went to the Woodland Zoo. Now, I've visited my fair share of zoos, and the Woodland Zoo is definitely in the top 5 of all the zoos I've visited. They had a super cool penguin exhibit (among other things). It was a bit rainy and cold, but we had a good time.
Here's a sleeping Penelope and I in front of the penguins:
As an aside, wearing P in the Moby for most of the trip has given me a bit of a hunchback.
Anyway, after the zoo we walked to my cousin's apartment, spent a few hours with him, went out and got lunch (delicious Cuban food), and then headed back to our hotel.
After re-supplying ourselves at the hotel, we walked over to the Seattle Center and did the Space Needle: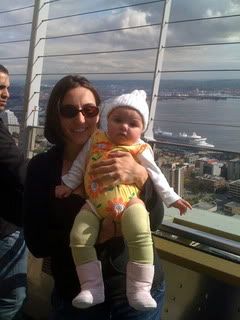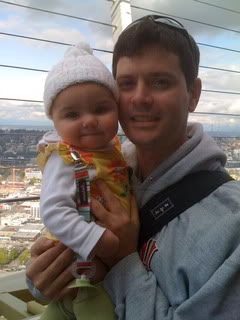 After that was dinner with my cousin Anna (Fredd's sister) and her son Zander. We had pizza :) It was fun, although by the end of it Bryan, Penny, and I were pretty exhausted...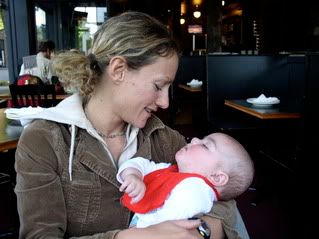 So we slept. Well, tried to. Penny kept scooting herself close to the bars of the crib and then waking up and crying. We eventually brought her into bed with us and she slept much better (although I'm surprised I didn't wake up with a black eye).
The next day was jam packed. We toured the Science Fiction Museum & Experience Music Project (SMF/EMP) in the morning, took the Monorail into dowtown, walked to the Nike store, walked to Pike's Market, walked to the Aquarium, walked BACK to the market, then walked to Safeco field for the Mariner's game. 80% of the time I was wearing Penny and Bryan had the stroller and diaperbag. Needless to say we were exhausted. But we had a fun day. I have a lot of pictures, but here are some of my favorites...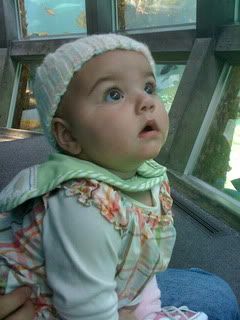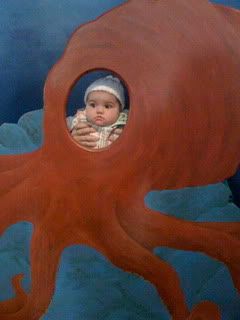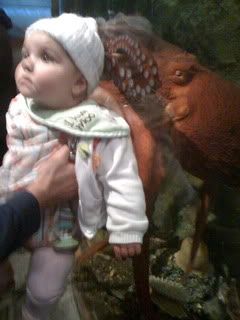 In the last picture she's with my friends Cassie & Mike... our friend Ray also came to the game. It was fun even though we had to leave early (P ran out of formula so we had to make a mad dash to a grocery store).
We all slept well that night.
The next day was our departure day, but we managed to squeeze in some more fun! In the morning Anna and Zander stopped by and we walked over to the Seattle Center for coffee. My friend Lorena, her husband Todd, and their December baby Josiah also made it out. Lorena and I met online while we were both pregnant, so it was super cool to meet her and her beautiful baby!
Our December babies:
After coffee, we had lunch with Bryan's Aunt Pegg and her significant other Rick. It was a nice lunch, the place we went to was recommended by Lorena's husband Todd and was really good!
The trip back was rather uneventful, thank goodness. Penny slept halfway through the plane ride, she's a good traveler!