Today Miss Penelope turns 7 months old, so happy birthday baby! Here are some pictures:
Family photo in Downtown Sac: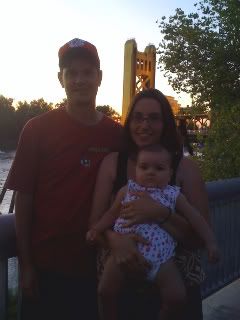 Penelope attempting to steal my camera-phone:
Penny so intent on watching Jeopardy that we can balance a block on her head: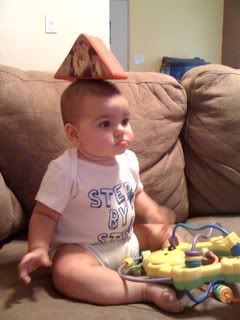 Other things to note:
*Prunes are bad. Very. Very. Bad. And should only be used when Penelope is having actual digestive issues... they should never be a part of her regular diet. Ewwwwwwwww
*Fireworks are annoying when trying to get a baby to sleep.
Firsts:
*P is now responding to her name!
*Scooting backwards while on her belly
*Standing up with very little assistance (she uses us for balance, but can get from sitting to standing with almost no help!)
*TOOTH #3 is IN!!! It's a top tooth, and just peeking out, but it's there!
*Her new favorite "word" is "Gree"
Ok, more later - it's tickle time.