Monday was our last day in LA, and we made it count. That morning we woke up, packed up the car and headed to Forest Lawn to visit Pablo. I've blogged about him before, so most of you know who he is... we brought flowers and I wrote him a little note. It took me 4 tries to get it right, and I still don't think I said what I really wanted to say. How do you tell a little boy you've never met how much you miss him? How do you tell him that you'll never ever forget him, and that he's made a huge impact on your life? How do you tell a little boy who died of cancer that his story, his life, has fundamentally changed the way you see life and the way you see your own child? There just aren't words to adequately express how I feel about Pablo's story and how much of an impact it has made... and I am certainly not eloquent enough.
I've known other people who have died before their time, and I have felt the loss of them keenly. But it has been nothing compared to how the death of this precious child has effected me after having becoming a parent. I cannot even begin to imagine the heartbreak his parents felt - and still feel. Contemplating their pain is overwhelming, it makes my mouth dry, my throat freeze, and my heart ache... and it has to be
nothing
compared to what they feel. I think about them every day.
I'm glad we went to see Pablo... the cemetery is beautiful.
After our visit we grabbed a late breakfast and went to Venice Beach. It was Penelope's first ocean experience and I think she's a fan... here are some pictures: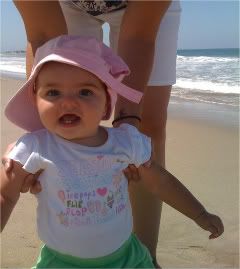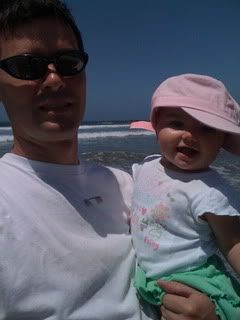 After the beach we headed to the airport, checked in, and hung out until our plane left. Penelope slept the whole ride.
We had a really great time in LA. It was exhausting, but fun.