So yesterday marked the start of my 9th month of pregnancy (which lasts *forever*). I'm 34 weeks 1 day and am so. ready. to be finished.
I think I've dropped a little since the last pregnancy photos I posted, so here's a new one with a pic of me @ 35 weeks with Penelope: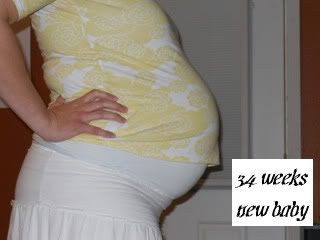 As you can see, I now have to wear 2 shirts to cover the belly. But I do think the baby has dropped a little. We have an appointment in a week so we'll see what the midwives say.