This morning Penelope had oatmeal for breakfast. This is always a messy endeavor, and generally results in a shirtless baby after breakfast is completed. I could use a bib, but it really doesn't help with the mess. So after she was done I wiped her down, pulled off her shirt, and let her run around the house half naked.
She's been on a scarf & necklace kick lately, so the first thing she does is grab her fuzzy scarves and put them on.
So now my toddler looks like Steven Tyler (only oodles cuter).
See?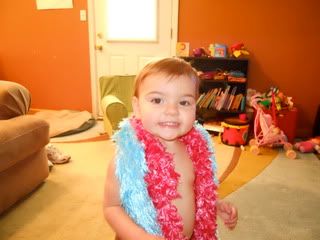 I think it's hilarious.
A real update later, much to talk about.