This morning I came to the conclusion that Griffin is a superhero. Or supervillian, not sure yet which. Regardless, he clearly has the qualities necessary for either. Here is my evidence.
1.
Superhuman strength
. He is strong. Really, really strong. Stronger than Poe at this age for sure. His strength gives the ability to throw any sippy on the ground from an height and dislodge the plastic water flow mechanism inside the sippy so that it leaks all over the d*mn floor. He does this at every meal.
I
can't even do that.
2.
Expressive eyebrows
. Griffin can move his eyebrows independently. Seriously.
3.
His laugh
. G's laugh is... maniacal at times. You know, the more I write the more I suspect he's actually a supervillian.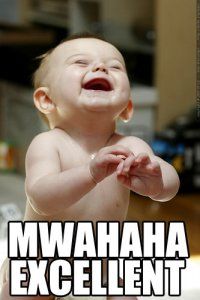 4.
Leadership qualities
. This is, of course, just a nice way of saying that G does what he wants, when he wants. He occasionally listens to reason (i.e. Bryan and I), but more often than not he forges his own path.
5.
A sidekick
. The dog. Griffin is fascinated with Harley-Quinn and she loves him (mostly because he drops food). She lets him do anything to her. He often uses her as a prop to stand or walk. He joins her on the dog bed, he pulls her ears, runs her over with his walker, attempts to steal her dog treats, and tries to throw her balls. She takes all of the abuse without growling or whining.
6.
He drives me crazy
. I'd bet that Superman's parents got a little tired of his antics. Same goes for Lex Luthor. The child seriously drives me up a wall sometimes, but man do I love him. The only reasonable explanation for this is mind control, right?
So, what do you think?